B&H International LLC.
Phone (661) 832-3181
Commercial Sales
(661) 832-3181 Ext. 152
Government Sales
(661) 832-3181 Ext. 154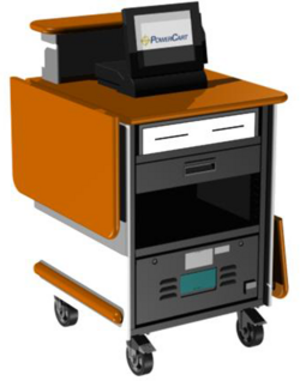 VERSALANE
Moving a fixed checkout lane can be a significant challenge for most retailers, but the value of having a mobile checkout for seasonal sales, managing heavy weekend shopping traffic or rolling out a POS system into a parking lot for sidewalk sale or garden centers is very compelling. Studies have shown moving mobile checkout lanes to the point of customer interest will increase sales and drive revenue while maximizing the customer experience.
Increase revenue

Peak period line busting

Ramp up service for seasonal peaks

Reclaim premium floor space between seasonal peaks

Reduce errors, save costs and improve productivity

Use your technology at the point of decision

Approximate one month ROI
Solutions: Logisitcs, Mobile Office, In Aisle Printing
Rugged: Welded steel frame and four post design make it the most rugged cart available. It can handle the toughest environments while protecting sensitive electronics.
Reliable: Outstanding reliability, designed to work all day every day backed by the best warranty in the business, one year including batteries.
Rich on Features: Multiple shelving and power configurations to suit almost any requirement with up to 40 hours of runtime.
Benefits
Capture sales at point of decision

Enable peak period line-busting

Ramp up service during seasonal peaks

Reclaim premium floor space

Optimize wireless investment
Power Options
Fully scalable

Battery runtimes of 6hrs to 40hrs

Recharge time of 2hrs to 8hrs

Long battery life (approx 2 years)

Retractable power cord
PowerVision: Increase savings with our patented PowerVision Solution.
Supported Hardware
Extended Warranty: Two or three year extended warranties available.
Cart
Multiple configurations to meet all hardware requirements

Rugged welded steel frame

Heavy duty castors. Less than 10lb of push weight to start rolling.

Open front and rear access for easy access to all components

Efficient cable management system

Easy to maneuver

Ships fully assembled
Options
Multiple finishes: Powder coat finish, Laminate, Stainless steel

Bag holders

Top available in multiple configurations

Shelves available in multiple sizes and cut outs

Footprint from 24" wide by 30" deep to 72" wide by 30" deep